Manchester Celebrates Ribbon Cutting!
Posted on January 18, 2019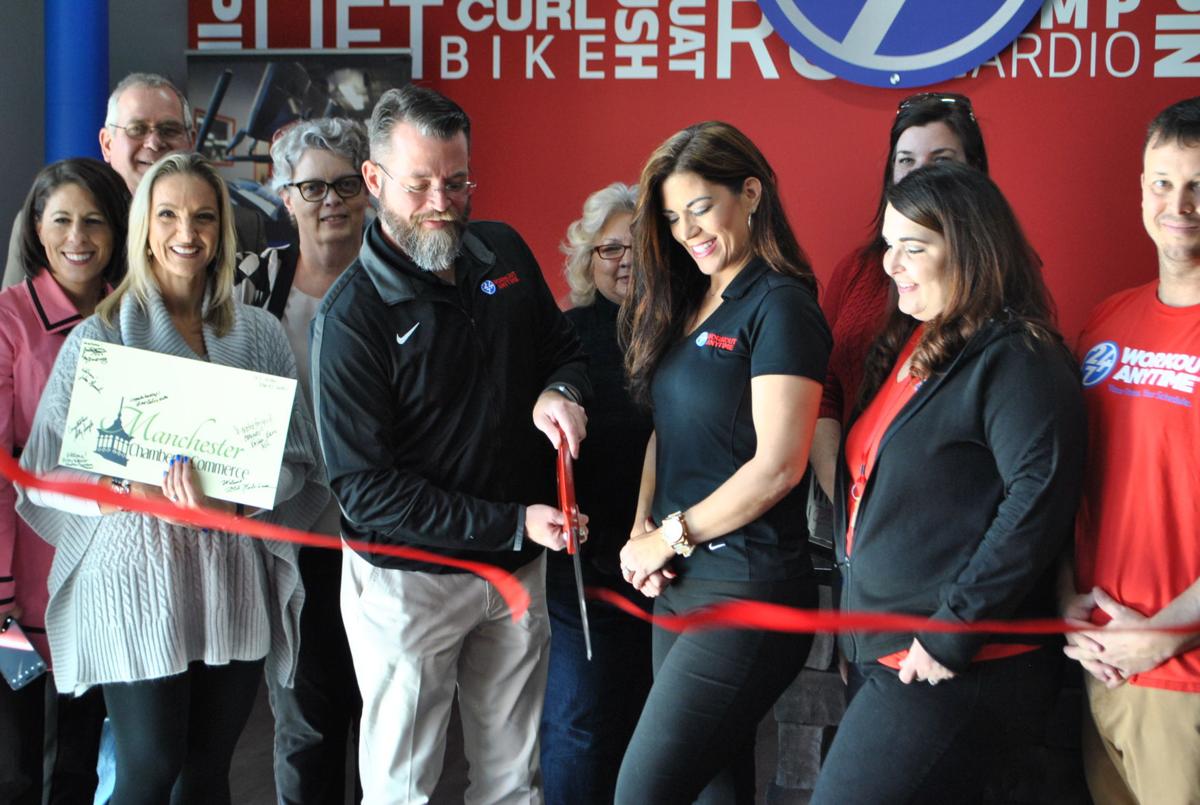 Workout Anytime, Manchester's newest gym, had its grand opening and ribbon cutting ceremony on Wednesday, Jan. 9. The 24/7 facility gives members access to hydro massages, a standing and a lay down tanning booth, full service locker rooms with showers, access to personal trainers and more.
The facility has an open floor plan, but is divided into sections via carpet color. On the red carpet, all of the cardio equipment, such as treadmills, elliptical and bikes, and toward the back on the black floor, free weights and machines are found to build muscle mass.
"Free weights are the best way to build muscle," revealed franchise owner Mike Zuidema.
Workout Anytime also offers classes at 8 a.m. and 5 p.m. Mx4 group classes will be offered in March or April. These classes improve cardiovascular fitness, power, strength and endurance in a way that's right for your body and abilities. The machines used for this class offer 176 different exercises.
All of their classes are low-impact and noncompetitive.
The morning class is fairly popular and the evening class is beginning to pick up more attendees as well.
The slowest time for the gym is between 10 a.m. and 1 p.m. and after 9 p.m., which is good for people who like a quitter gym while they're working out or are self-conscious.
"You don't have to go to the gym 2-3 hours to get fit," Zuidema said. He added that 20 minutes of exercising is better than nothing and can help anyone get healthier.
Zuidema recommends the reACT Trainer or the Express Bikes, which are interactive and can track the user's progress via log-on services. Bikers can also race against virtual characters and enjoy games, virtual landscapes or training while on the machine.
The gym has been open for about a month now and the support has been tremendous, Zuidema said.
People have been telling him, "'Thank you for coming here,' that's the fun part. I knew there was a need, but I had no idea there was this much of one," he explained.
If interested in a membership, Workout Anytime staff is there from 9 a.m. to 3 p.m. Monday-Friday. They will take the interested party on a tour of the facility, show them the equipment and talk about payment plans that work for the individual or the group. The basic membership plan is $19 per month.
There are also panic alarms set up around the facility to enhance security or ensure medical personnel can get to the location, if necessary. If pressed, emergency personnel will be notified immediately.
After staff leaves, the doors are locked and only members can access the facility.
Manchester's gym can be found at 2161 Hillsboro Blvd.
Workout Anytime began in the 1970s with John Quattrocchi and Steve Strickland in Douglasville, GA. Since then, it has expanded to over 150 locations.
The company's mission is "to provide the most convenient, first-class fitness experience, open every hour of every day, with the best equipment, superior service and cleanliness, in a neighborhood atmosphere where everyone knows your name. https://workoutanytime.com/manchester
To learn more about franchising opportunities currently available, see our Franchise Website.
#gym #franchise #woatfranchise #workoutanytime #24hr gym #workoutanytime