Since its inception in 1999, Workout Anytime has been committed to providing its members with first-class fitness facilities at the lowest cost possible, while delivering a profitable and affordable business model to franchisees. Founded by fitness veterans John Quattrocchi and Steve Strickland with the motto, "Think big, keep it simple and do it with integrity," Workout Anytime has grown into a lifestyle brand that helps thousands of people across the United States achieve their fitness goals.
With more than 160 locations spanning the U.S., Workout Anytime is certainly flexing its muscles, and the brand has garnered numerous awards and recognitions from renowned industry publications.
First, Workout Anytime was named to Franchise Times' Top 200+ list for 2019, locking in the 363th spot. Franchise Times ranks 500 of the largest franchise systems in the U.S. according to global systemwide sales, based on the year prior's performance.
In addition to the Franchise Times Top 200+ list in 2019, Workout Anytime was named to Entrepreneur's annual Franchise 500 list for 2020, where it captured the No. 351st spot. Entrepreneur ranks brands using its proprietary five pillars of evaluation: costs and fees; size and growth; support; brand strength; and financial strength and stability.
"Workout Anytime is honored to be recognized by Franchise Times on their annual Top 200+ list and on Entrepreneur's Franchise 500 list," said Terri Harof, director of franchise development at Workout Anytime. "We can thank the entire Workout Anytime system—both corporate and franchisees—for these recognitions. Our team is full of awesome, passionate, and incredibly knowledgeable people who love what they do everyday, and it really shows."
Workout Anytime and its creative team, Design Coup, was also honored at the Tell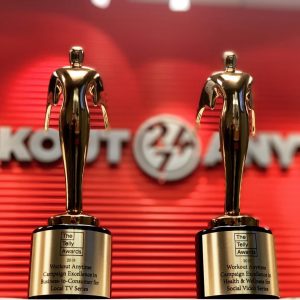 y Awards—taking home two Bronze Winner prizes in the categories of Local TV and Social Video.  Founded in 1979, the Telly Awards honor excellence in non-broadcast video and television programming, as well as excellence in local, regional, and cable television commercials. The brand was recognized out of a pool of approximately 12,000 companies at the Telly Awards, highlighting its strength as a major player in the fitness franchise category.
Workout Anytime is dedicated to showcasing people-focused content and takes special pride in showcasing its hard-working and dedicated members. "Workout Anytime's marketing campaigns feature real members who have incredible stories to tell," said Randy Trotter, Senior VP of Development at Workout Anytime. "We work to provide an affordable and professional solution to fitness, and it really helps make a difference in our members' lives."
Workout Anytime's member testimonial videos  feature members sharing their very own personal success stories that describe how the fitness brand has helped them change their lives for the better.
In addition to receiving recent industry recognition, Workout Anytime is also flexing another set of muscles—its philanthropic arm. Workout Anytime donated over $50,000 to Augie's Quest to Cure ALS, a nonprofit organization dedicated to changing the experience of people living with ALS by supporting cutting-edge research and effective treatments. "Workout Anytime was so thrilled to be able to donate to Augie's Quest," Harof said. "Augie's Quest to Cure ALS is such an incredible organization, and anything we can do to help those affected by ALS, we are happy to do."
It's not hard to see that Workout Anytime is a thriving brand. With numerous industry awards and recognitions under its belt, the 24/7 seven-day-a-week fitness concept is positioned on a path toward success in 2020 and beyond. Having recently celebrated its 20th anniversary, Workout Anytime is continuing to break ground in new markets and continue its national expansion with new franchisees.  To learn more about franchising with Workout Anytime, visit https://workoutanytimefranchise.com/.