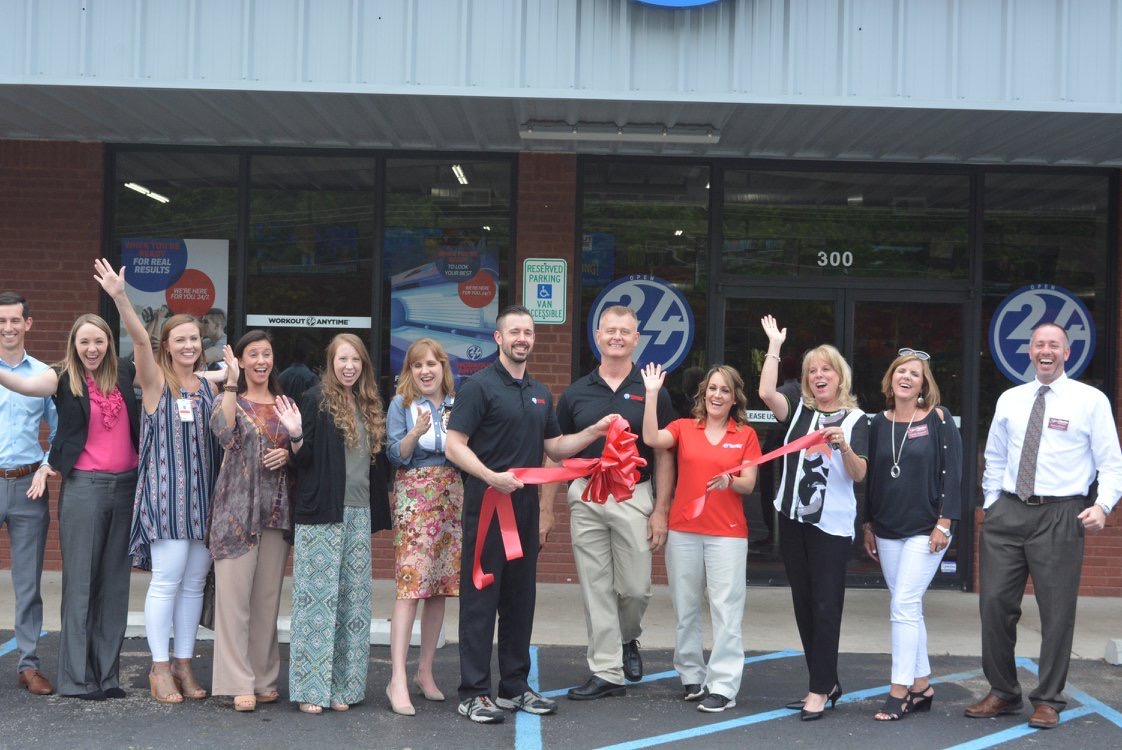 MUSCLE SHOALS-On Wednesday, May 23 Workout Anytime Muscle Shoals officially cut a ribbon to commemorate its new facility located at 300 S. Wilson Dam Rd. Tracy Rhodes and Steven Elliott have partnered to offer the Shoals area a great workout anytim of day.
Congratulations to Workout Anytime Muscle Shoals for a successful opening this year. Thank you for keeping the Shoals in shape!
Here's some info about their new location:
"With today's busy lives, the major obstacle to staying fit is not motivation — it's convenience. At Workout Anytime, we're here for you, in your town, 24/7. It's hard to find time in your day to workout. That's why Workout Anytime Muscle Shoals has developed a proven way to make fitness easy and convenient:
Our clubs are close to home. Parking is never a hassle with easy in, easy out
Cost is never a barrier. A membership costs less than getting the newspaper
Best of all, you can workout anytime — when it's best for your busy schedule
Make Fitness Fit for You – Bottom line, the key to losing weight, building strength and increasing energy is to find as little as 20 minutes in your daily schedule.
OUR FACILITY FEATURES:
24-hour access for all members
Matrix Selectorized Strength Training Equipment
Rows of cardio including: treadmills, ellipticals, stair climbers, and stationary bikes
Dedicated Plate Weight area featuring: Hampton free weight dumbbells, squat rack, flat and incline bench press, smith machine, and a variety of assisted weight lifting equipment
Flat screen televisions
Use of all Workout Anytime facilities across the country
Monthly fitness evaluations
Certified Personal Coaching
Ergoline tanning beds
HydroMassage units
reACT Eccentric Anaerobic Core Trainer
Free Wi-Fi access"
The Soals Chamber captured the celebration in photos and we present them to you here:
http://quadcitiesdaily.com/?p=458773
To learn more about franchising opportunities currently available, see our Franchise Website.
#gym #franchise #woatfranchise #workoutanytime #24hr gym #workoutanytime