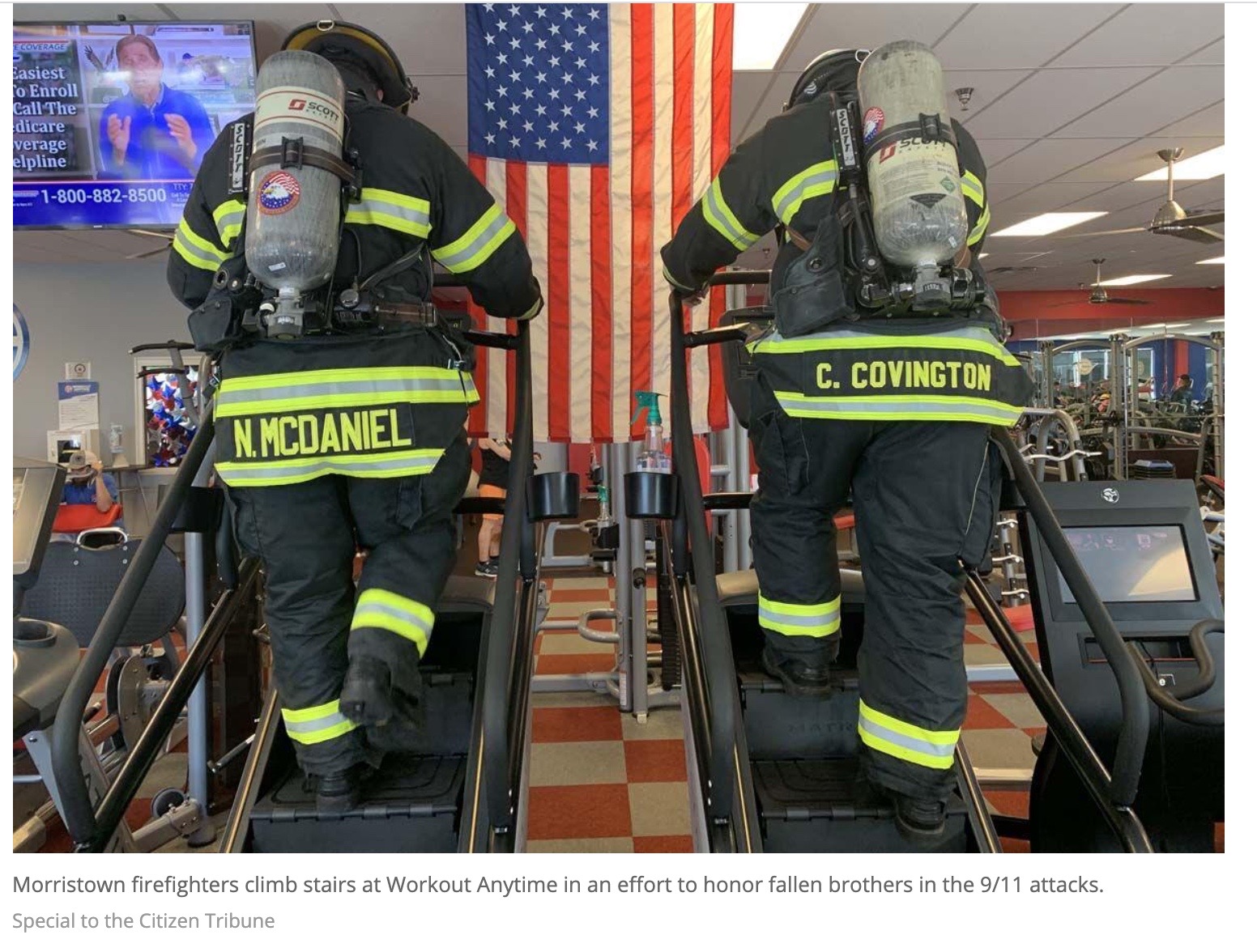 It's been 19 years since that bright September morning when New York City's first responders, firefighters, police officers and EMTs, standing in the face of unimaginable horror, entered the Twin Towers of the World Trade Center to try and save as many lives as possible.
In what has become an annual tradition, honoring the sacrifices of the fallen, members of the Morristown Fire Department convened at Workout Anytime in Morristown and climbed the equivalent of 110 flights of stairs – 1,980 steps – while wearing full fire-fighting gear.
"I want to thank both Workout Anytime and National Fitness Center for offering their facilities to these firefighters," Morristown Fire Chief Clark Taylor said. "These men took this challenge upon themselves, it was strictly voluntary and they certainly stepped up. I'm extremely proud of these Morristown firefighters. This was tough and not a one quit.
Of the 2,977 victims who died in the attacks, 412 were first responders, including 343 firefighters.
"I cannot imagine what the fire, EMS and police officers were thinking as they were climbing up those two towers on that morning of 9/11," Taylor added.
Similar observances took place across the country as the nation marked the 19th anniversary of the attacks. In New York, the skies where the twin towers of the World Trade Center formerly stood were once again being lit up with the Tribute in Light.
The annual display sends up two powerful beams that can be seen from miles around from dusk to dawn, in memory of those lost in the Sept. 11 attacks 19 years ago.
The tribute had almost been put aside this year, as its display was initially canceled by the National September 11 Memorial & Museum over concerns for the safety of the installation crew from the coronavirus.
That caused an outcry, and the Stephen Siller Tunnel to Towers Foundation pledged to put the lights up nearby, until the memorial got support from its chair, former Mayor Mike Bloomberg and Gov. Andrew Cuomo to have the lights shine.
Tunnel to Towers also arranged to display single beams for the first time at the Flight 93 memorial in Pennsylvania and the Pentagon.
The Citizen Tribune