---
Virginia Beach Franchise Partner, Alexis Burrell
October 7, 2021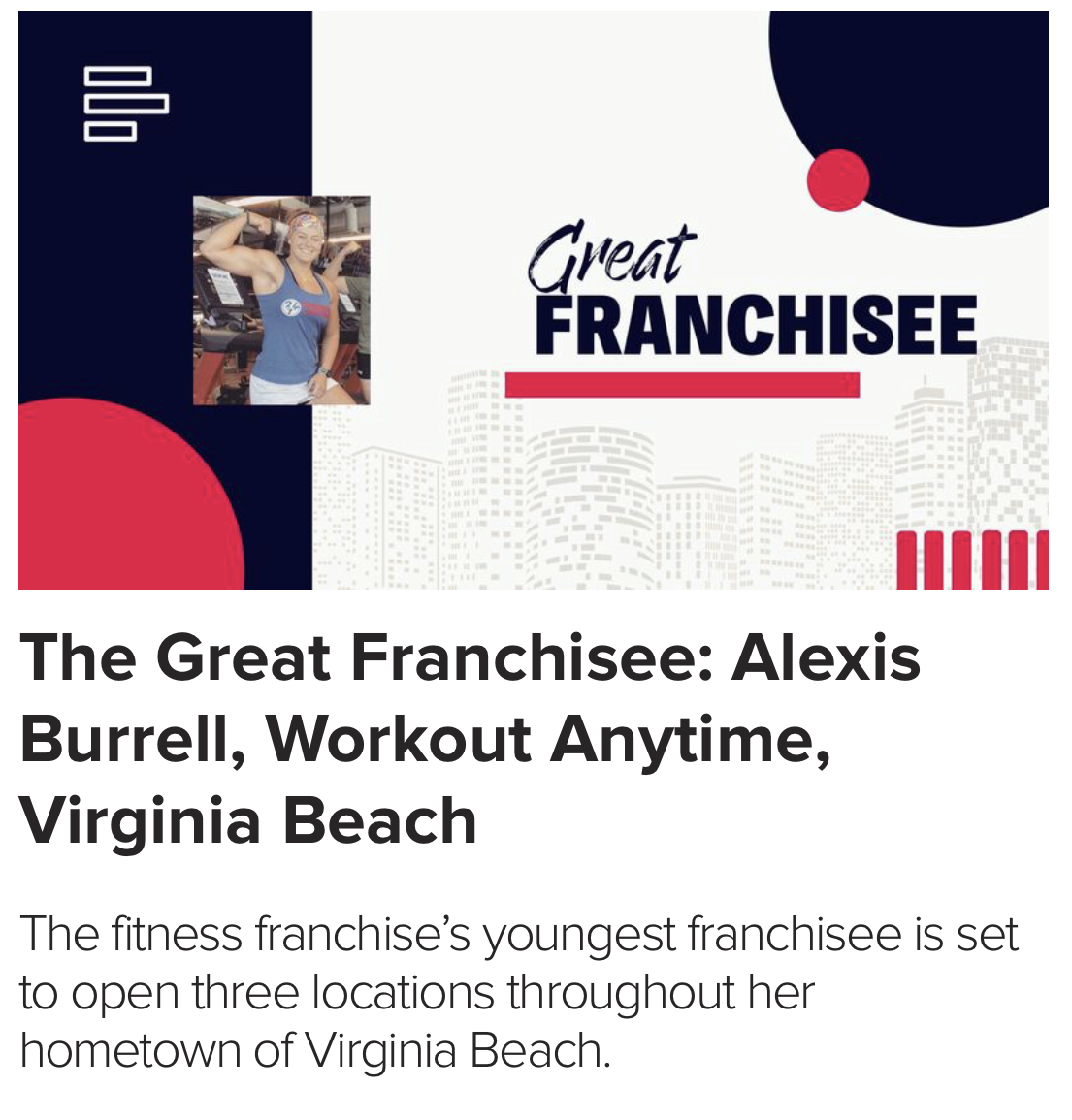 Just 27 years old, Alexis Burrell is the youngest franchise owner with
Workout Anytime
, the 180-plus-unit fitness franchise. Despite her young age, Burrell brings plenty of experience to the role. After graduating from college, Burrell took a job as a sales manager at a
Workout Anytime
location in Charlotte, and she's been with the brand ever since. Recently, Burrell moved back to her hometown of Virginia Beach, and she's leveraging her on-the-ground experience with the fitness franchise to open three units of her own. We spoke to Burrell to learn more about her journey to franchise ownership.
1851 Franchise: Tell us your story — what did you do before franchising?
Alexis Burrell:
I was born in the Netherlands; my father was in the Navy and we moved back to the United States when I was three. I attended Great Bridge High School and went to Wingate University on a softball and academic scholarship where I received both my bachelor's degree, and master's degree. I received my bachelor's degree in Sport Management and Biology, and my Master's in Sport Management. I always knew I wanted to have my own training facility, but I didn't know what that looked like. I did my internships for the Norfolk Tides while in school. After graduate school, I walked into a softball and baseball facility and created a position for myself as the Director of Softball Operations at Batter Up in Monroe, NC. After about 8 months, I learned that my dream of having my own facility needed to be more general, and not so sport-specific. I joined Workout Anytime in 2017 and within eight months I was promoted to General Manager. I was then promoted again to Regional Manager another 8 months later. The thing I love most about Workout Anytime is that you're able to work with anyone on all types of fitness levels, not just athletes. Workout Anytime has such a diverse group of members, which is another reason I fell in love with the brand. Having a faith background, I'm supposed to love and serve others, and what better way than to share that than through fitness and improving people's lifestyles. I'm excited to introduce the operation in the 757 area and expand on all the knowledge I've learned from Chris Grove and Hemanth Grandhige. Those are the owners of the Charlotte, NC locations. Chris is the owner that hired me and tucked me under his wing for most of my time in my Workout Anytime career. To this day Chris Grove is still a mentor to me. Hayley Whitley is my business partner that will be helping me with opening all three locations. She played softball with me in college, and later was a personal trainer at Workout Anytime Indian Trail. Hayley was the person that really introduced me to fitness after college and to Workout Anytime. We've done college athletics, Spartan Races, NPC Bodybuilding shows, and now we're opening these gyms together. She has a Bachelor of Science in Psychology and a Master of Science in Nutrition and Integrative Health. Hayley has 8+ years of personal training experience and has a very diverse training background. Us two together are a dynamic duo for sure. Hayley will be taking the reins with personal training, while I handle sales and backend work.
1851: Why did you choose to go into franchising? What was the trigger moment that led you to become a franchisee with Workout Anytime?
Burrell:
Chris brought me down to the Workout Anytime headquarters in 2018. It was the first time the brand had hosted a personal training academy which was a four-day event. Being around such like-minded people with the same goal and vision just lit a fire under my butt. As soon as we left Chris asked me what I thought and I told him, "I want to do this for the rest of my life."
1851: What value do you see your business providing to the community, and what plans do you have for growth?
Burrell:
I've noticed that there wasn't anything like Workout Anytime in the 757 area. I like to think Workout Anytime is a combination of a lot of the gyms in the area. We are a true 24/7 gym, with low cost, a ton of free weights and machines, with certified trainers on staff to help ensure results are being met. In my opinion, the staff we have and hire is what really seals the deal. Our mission statement is to provide a friendly, convenient, life-changing journey with
passion
. When you walk into our Workout Anytime, it is our goal to know every member by name. I'd say for the most part we've done a great job with that. We want everyone to feel comfortable coming into our Workout Anytime regardless of their fitness background. We want you to know we're your "Fit Fam" and want to see you win in life and in the gym.
1851: Are you using your Workout Anytime to do any community outreach?
Burrell:
We really value our military and 1st responders. They immediately get discounts when they sign up at our locations. When our gym first opens we typically go to the closest police and fire stations and give out free memberships to staff just to show appreciation for all they do in our communities. Being so close to a ton of naval bases in this area. I'd love to be able to partner with the USO foundation in the future. My brother, Christopher Burrell, is a wounded warrior and the resources they've provided him along with other wounded veterans don't go unnoticed. I'd love to help wounded or injured veterans find a place to work out and exercise to help with their mental health. I just don't think there is not enough attention on the mental health of our soldiers that have come back from war and having fitness as one of those outlets I think would be very beneficial to the community.
ABOUT WORKOUT ANYTIME*:
Atlanta-based Workout Anytime is a 24-hour, seven-day-a-week fitness concept with 180+ units across the U.S. Founded by fitness veterans John Quattrocchi and Steve Strickland, the company was formed to provide members with first-class fitness facilities at the lowest cost possible while delivering a profitable and affordable business model to franchisees. Built on the founders' motto of, "think big, keep it simple and do it with integrity," Workout Anytime is preparing for significant expansion into new territories across the U.S. and Central America by providing opportunities to business-minded entrepreneurs. Franchise opportunities are available and more information can be found on https://workoutanytime.com/.
We Stand By Our Values
We offer affordable fitness with high-quality equipment whenever you want it. Fitness that fits your life means there's no excuse, just results.

Attitude
---
We drive a positive culture of confidence and enthusiasm by doing the right thing for all our members, partners, and staff.

Care
---
We provide our members, partners and staff with an environment that is welcoming and respectful of each individual.

Excellence
---
We are committed to the success of our members and partners through the expertise and dedication of our team.