---
East Ridge Trainer Suggests Safe and Effective Post-COVID-19 Workout
September 17, 2021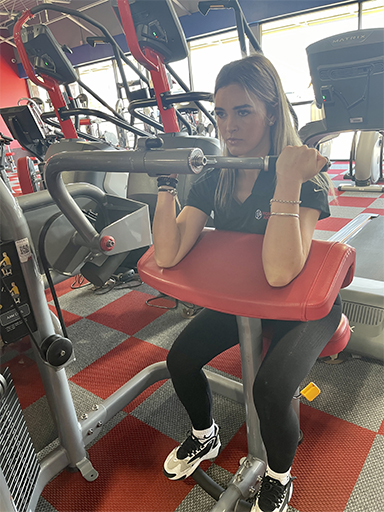 9/29/21 Hamilton County Herald
When Workout Anytime East Ridge manager Siobhan Patterson talks with people about easing back into an exercise routine after recovering from COVID-19, she's not just speaking as a fitness expert. She's a voice of experience. Patterson caught the virus in July 2020. As a lifelong sports and fitness enthusiast, herin ability to exercise was just as distressing to her as her physical symptoms. Even after obtaining a clean bill of health, Patterson was still weak and experiencing shortness of breath, so she was unable to jump back into her cardio-heavy routine.Instead, Patterson did what she's now coaching other people to do: She started slow and gradually ramped up the intensity of her workouts. "I took my time," she says. "For the first week, I just jogged outside a little each day." Despite her sensible approach, Patterson says she encountered physical and mental roadblocks as she became physically active. "I had to stop and walk, which had never happened to me," she recalls. "That was discouraging and made me want to quit. So, COVID can set you back mentally as well as physically."
"But I'm stubborn and kept going until I felt fine." After a week on the roads outside her home, Patterson moved her workouts onto a treadmill, where she continued to slowly intensify her routine. "I gradually increased my speed and running time – or decreased my resting time, depending on how I felt." she explains. Patterson focused on cardio because it was her preference. She started playing soccer in her native New Zealand at the age of 3 and, as an adult, has enjoyed competing in triathlons. But as Patterson fought to restore her stamina after suffering from COVID-19, she found what she says was the key to not only a quicker recovery, but also better overall fitness: strength building. "I felt super weak, so I knew I needed to focus on increasing my strength and not just do cardio," she notes. "I wanted to develop a more balanced routine." Patterson focused on every muscle group, working her arms, legs and core until she felt fatigued and then logging how many "reps" she'd done. She says this improved her mental wellbeing, too, because it allowed her to see she was progressing. Over time, Patterson dropped her reps, added more weight, and leveled up her cardio. After a month of consistently stepping up her routine, she felt as though she'd returned to her pre-COVID level of strength. "I was doing more muscle building than I'd previously done, so I was actually feeling better than ever," Patterson says. Now Patterson – who holds a bachelor's degree in exercise science – is sharing the things she's learned with clients at Workout Anytime. Easing into a routine is at the top of her list of recommendations. "Do an elliptical machine or an exercise bike – something not too intense," she advises. Patterson also suggests focusing on muscle growth. "This is beneficial when recovering from COVID-19 because it increases your endurance, not just for exercise but also for everyday activities like walking, shopping for groceries, and spending time with family and friends." Again, the key is to start slow and gradually step up the routine, she reiterates. "Do more reps with less weight. You don't want to start lifting heavy because that will make you weak." Instead, listen to your body. If your arms feel tired, leave them out for that day and focus on your legs or something else. You don't want to stress out your body." Patterson says people who are accustomed to working out might have a hard time taking things slow at first, but doing so can help a person avoid more setbacks. "You might want to go full throttle, but you have to hold yourself back a bit," she insists. Patterson recommends two light cardio and three easy strength building sessions a week as a person is coming out of a bout with COVID-19. "Use a bar with no plates on it, do squats and practice your technique to make sure you're doing everything right." People who are unsure about their technique should consider a session with a personal trainer, either at home or their preferred fitness center, Patterson adds. To that end, memberships at Workout Anytime include a monthly "success session" with a certified personal trainer, she says.
"You can come in, discuss your fitness goals and any health problems or concerns you have, and if you're unsure about the equipment, we'll show you how to use it and help you develop a routine." Patterson also points out that Workout Anytime fitness centers have robust COVID-19 protocols in place, including towels and spray bottles for disinfecting exercise equipment before and after using it, hand sanitizer stations and Aeris Air Purifiers. Also important is feeling at ease socially, Patterson says. "Going through COVID-19 made me want to help others. So, when people come in here, I make sure they're comfortable and don't feel judged.At least, as long as they start slow." To view videos of Patterson demonstrating recommended COVID-19 recovery exercises at Workout Anytime, search for the Hamilton County Herald on Facebook.
We Stand By Our Values
We offer affordable fitness with high-quality equipment whenever you want it. Fitness that fits your life means there's no excuse, just results.

Attitude
---
We drive a positive culture of confidence and enthusiasm by doing the right thing for all our members, partners, and staff.

Care
---
We provide our members, partners and staff with an environment that is welcoming and respectful of each individual.

Excellence
---
We are committed to the success of our members and partners through the expertise and dedication of our team.